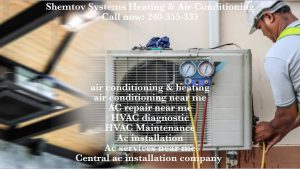 Introduction
When your air conditioning system breaks down or starts showing signs of trouble, finding the right air conditioning repair company is crucial to getting your home comfort back on track. While there are many HVAC service providers out there, not all are created equal. To ensure you receive efficient, reliable, and cost-effective repair services, here are several important factors to consider when hiring an air conditioning repair company.
1. Licensing and Certification
One of the first things to check when hiring an air conditioning repair company is their licensing and certification. Verify that the company and its technicians hold the necessary licenses and certifications required by your state or local authorities. Licensing typically indicates that the company has met certain standards and is authorized to perform HVAC work in your area. Certified technicians are more likely to have the training and expertise needed for quality repairs.
2. Experience and Expertise
Experience matters when it comes to HVAC repairs. Look for a company with a proven track record and a history of successfully resolving air conditioning issues. An experienced technician is more likely to diagnose problems accurately and provide effective solutions. Additionally, inquire about the specific experience of the technician who will be working on your system.
3. References and Reviews
Don't hesitate to ask the air conditioning repair company for references or look for customer reviews and testimonials online. Hearing from past customers can give you insights into the company's professionalism, work quality, and customer service. Pay attention to reviews that mention how well the company communicates, adheres to schedules, and resolves issues.
4. Insurance and Liability Coverage
Ensure that the air conditioning repair company has adequate insurance coverage, including general liability insurance and workers' compensation. This protects you in case of any accidents or damage that may occur during the repair process. Don't hesitate to ask for proof of insurance and verify its validity.
5. Transparent Pricing
Clear and transparent pricing is essential to avoid unexpected costs. Ask for a detailed written estimate before the repair work begins. This estimate should outline the cost of labor, parts, and any other potential charges. Be wary of companies that provide vague or overly low estimates, as they may add hidden fees later.
6. Emergency Services
Air conditioning problems can arise at any time, often when you least expect them. Consider hiring a repair company that offers emergency services with 24/7 availability. Knowing you have a reliable technician to call during emergencies can provide peace of mind.
7. Warranty and Guarantees
A reputable air conditioning repair company should stand by their work. Inquire about any warranties or guarantees offered on both the parts and labor. Understanding the terms of these warranties will help you assess the company's commitment to quality service.
8. Transparency and Communication
Effective communication is vital when dealing with HVAC issues. The repair company should be responsive to your inquiries, answer your questions clearly, and keep you informed throughout the repair process. Their technicians should explain the problem, proposed solutions, and costs in a way that you can understand.
9. Energy Efficiency Expertise
If you're concerned about energy efficiency, look for a repair company that specializes in energy-efficient solutions. They can not only repair your air conditioner but also provide recommendations for optimizing its performance and reducing energy consumption.
10. References from Friends and Family
Word of mouth is a valuable resource. Ask friends, family, or neighbors for recommendations on air conditioning repair companies they've had positive experiences with. Personal recommendations often carry significant weight.
Conclusion
Hiring the right air conditioning repair company can make all the difference when your AC system is malfunctioning or in need of maintenance. By considering factors such as licensing, experience, references, pricing transparency, insurance coverage, and communication, you can increase the likelihood of receiving high-quality service and ensuring your home remains comfortably cool during the hot months. Remember that a little research and due diligence can go a long way in finding a trustworthy and competent HVAC repair partner.