Boost Your Comfort with Our Reliable Air Conditioning & Heating Service
In the blazing heat of summer or the chilling cold of winter, a well-functioning air conditioning and heating system becomes essential for maintaining a comfortable living environment. When your HVAC system starts acting up, it's time to turn to a trusted and reliable service provider to keep your home cozy year-round. Discover how our dependable air conditioning and heating service can boost your comfort and peace of mind.
1. Expertise and Experience: When it comes to your HVAC system, you want professionals who know the ins and outs of the equipment. Our team of experts has the knowledge and experience needed to handle a wide range of HVAC systems, from traditional units to the latest energy-efficient models. We are well-versed in diagnosing issues accurately and providing effective solutions.
2. Preventive Maintenance: The key to avoiding costly HVAC breakdowns is preventive maintenance. Our comprehensive maintenance services ensure that your system is in top shape throughout the year. Regular check-ups, cleaning, and parts inspections can catch potential problems early, saving you from unexpected repair bills and ensuring your system runs efficiently.
3. Energy Efficiency: An efficient HVAC system/ac repair & installation not only keeps your home comfortable but also saves you money on energy bills. Our service includes optimizing your system for maximum energy efficiency. This means that you can enjoy a comfortable home without worrying about skyrocketing utility costs.
4. Prompt Repairs: When your HVAC system goes haywire, it's crucial to have a reliable team on call for quick and efficient repairs. Our technicians are equipped to handle a wide range of issues, from thermostat malfunctions to compressor problems. We prioritize prompt service to minimize disruptions to your comfort.
5. Installation and Replacement: If it's time for a new HVAC system, we've got you covered. We offer professional installation services for a variety of heating and cooling systems. Our team can recommend energy-efficient models that not only provide superior comfort but also reduce your environmental footprint and lower long-term operating costs.
6. Emergency Services: HVAC problems don't follow a schedule, and we understand that you may need assistance at any time. No matter when a problem arises, you can count on us to provide timely and effective solutions.
7. Improved Air Quality: A well-maintained HVAC system doesn't just control temperature; it also plays a significant role in indoor air quality. Our services include cleaning and servicing air filters, ducts, and vents to ensure that your home's air is clean and healthy.
8. Budget-Friendly Options: We believe that comfort should be affordable. That's why we offer a range of budget-friendly options, including service plans, financing options for new installations, and competitive pricing on repairs. We work with you to find solutions that meet your needs without breaking the bank.
9. Warranty and Satisfaction Guarantee: We stand behind the quality of our work. That's why we offer warranties on our services and parts. If an issue arises shortly after a repair or installation, you won't have to worry about additional costs.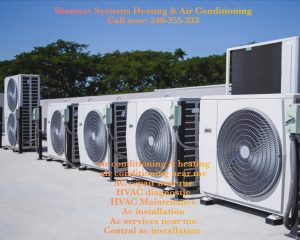 10. Sustainability: We understand the importance of environmental responsibility. Our team can help you explore green HVAC solutions, such as energy-efficient heat pumps or smart thermostats, to reduce your carbon footprint and lower your energy bills.
In conclusion, a reliable air conditioning and heating service is essential for maintaining a comfortable and energy-efficient home. With our expertise, preventive maintenance, energy-efficient solutions, and commitment to customer satisfaction, we ensure that your HVAC system runs smoothly year-round. Whether you need repairs, maintenance, installation, or advice on improving your indoor air quality, we have the knowledge and experience to meet your needs. Don't let HVAC issues disrupt your comfort – choose our reliable service to boost your comfort and peace of mind. Contact us today to schedule your HVAC service and experience the difference of working with professionals who prioritize your comfort and satisfaction.