Expert Air Conditioning & Heating Services: Your Comfort, Our Priority
When it comes to your home's climate control systems, nothing matters more than your comfort. Whether you're sweltering in the summer heat or shivering through the winter cold, a reliable air conditioning and heating system is essential. That's where expert HVAC (Heating, Ventilation, and Air Conditioning) services come in. In this article, we'll explore the vital role that expert air conditioning and heating services play in ensuring your comfort and peace of mind.
The Value of Expertise: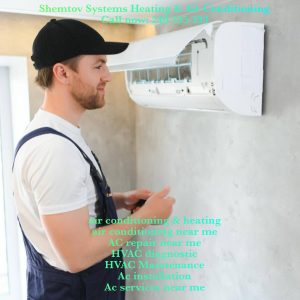 Accurate Diagnosis: Expert HVAC technicians have the knowledge and experience to accurately diagnose issues with your air conditioning and heating systems.
Efficient Repairs: When issues arise, you want them fixed promptly and efficiently. Experts can provide effective solutions, ensuring your systems are up and running as soon as possible.
Expert technicians can perform comprehensive maintenance checks, catch potential issues early, and address them before they become major problems.
Energy Efficiency: HVAC experts can optimize your systems for energy efficiency.
A Range of Services:
Expert air conditioning and heating services typically offer a comprehensive range of services to meet all your HVAC needs, including:
Installation: Professionals can install new air conditioning and heating systems, ensuring they are correctly sized and configured for maximum efficiency and performance.
Repair: From minor fixes to major repairs, expert technicians can handle all issues with your HVAC systems, including air conditioning units, furnaces, heat pumps, and more.
Maintenance: Regular maintenance plans are available to keep your systems in peak condition, extending their lifespan and preventing unexpected breakdowns.
Emergency Services: When your heating or cooling system breaks down unexpectedly, expert technicians are available for emergency repairs, providing fast relief.
Upgrades and Replacements: If your system is outdated or inefficient, experts can recommend and install modern, energy-efficient replacements to enhance your comfort and reduce energy costs.
Safety First:
Safety is a paramount concern when it comes to HVAC systems, as they involve electricity, gas, and complex mechanical components. Expert HVAC technicians prioritize safety in the following ways:
Gas Safety: For gas-powered heating systems, professionals ensure there are no gas leaks and that ventilation systems are functioning correctly to prevent carbon monoxide buildup.
Electrical Safety: Technicians inspect and maintain all electrical components, ensuring safe and reliable operation.
Compliance: Experts are well-versed in local building codes and safety regulations, ensuring that all installations and repairs meet the necessary standards.
Professional Equipment and Tools:
HVAC experts come equipped with specialized tools and equipment to perform diagnostics, repairs, and installations efficiently. They have access to the latest technologies and can handle a wide range of HVAC systems, regardless of their complexity.
Cost-Efficiency:
While some homeowners may be hesitant about hiring expert HVAC services due to cost concerns, it's important to consider the long-term financial benefits. Proper maintenance and energy-efficient upgrades can result in significant savings on utility bills and prevent costly emergency repairs or premature system replacements.
In conclusion, expert air conditioning and heating services are a valuable investment in your home's comfort, safety, and efficiency. With their expertise, range of services, and commitment to safety, HVAC professionals ensure that your systems perform optimally, keeping you comfortable year-round. Don't wait for problems to escalate; enlist the services of experts to ensure your HVAC systems work flawlessly and efficiently, allowing you to enjoy a comfortable and worry-free living environment.