Heating Service Near Me: Exploring Energy-Efficient Technologies/Silver Spring, MD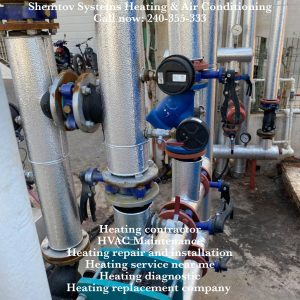 Introduction
As the need for energy efficiency and sustainability continues to grow, homeowners are increasingly turning to energy-efficient heating technologies to not only keep their homes warm but also reduce their carbon footprint and energy bills. If you're searching for "heating service near me," this article will guide you through the world of energy-efficient heating technologies, their benefits, and why you should consider them for your home.
The Importance of Energy Efficiency
Energy efficiency is a critical aspect of modern heating systems. It not only helps reduce your environmental impact but also lowers your heating costs, making it a win-win for both your wallet and the planet. Energy-efficient technologies aim to provide the same level of comfort while using less energy. Here are some of the top energy-efficient heating solutions to consider:
Furnaces are a common choice for heating homes, and high-efficiency furnaces have made significant strides in reducing energy consumption. They use advanced technology to extract more heat from the fuel, resulting in lower energy bills and decreased greenhouse gas emissions. Many high-efficiency furnaces come with variable-speed blowers and smart thermostats, allowing precise temperature control and further energy savings.
Heat pumps are versatile heating and cooling systems that extract heat from the outside air or the ground and transfer it into your home. They are incredibly energy-efficient, as they don't generate heat but move it from one place to another. Heat pumps are a fantastic option for moderate climates, providing both heating and cooling capabilities while consuming minimal energy.
Solar Heating Systems
They typically consist of solar panels installed on your roof or in your yard, along with a storage system. Solar heating systems are clean, renewable, and can significantly reduce your reliance on traditional energy sources. While they have a higher upfront cost, they can lead to substantial long-term savings and are environmentally friendly.
Geothermal heat pumps use the stable underground temperature to efficiently heat and cool your home. They are among the most energy-efficient heating systems available. While the installation can be more involved, the long-term energy savings and minimal environmental impact make geothermal heat pumps a wise investment.
While not a heating system in themselves, smart thermostats play a vital role in optimizing energy efficiency. These devices learn your heating preferences and adjust the temperature accordingly. They can be controlled remotely via smartphone apps and can help you reduce energy waste by ensuring your home is heated only when needed.
Zoned heating systems allow you to heat specific areas of your home independently, reducing energy consumption. You can set different temperatures for different zones, ensuring that you're not wasting energy on heating rooms that are not in use. Zoned heating systems are particularly effective for larger homes.
Why Choose Energy-Efficient Heating Technologies?
There are several compelling reasons to opt for energy-efficient heating technologies for your home:
Cost Savings: Energy-efficient systems can significantly reduce your heating bills, making them a cost-effective choice in the long run. While the initial investment may be higher, the savings over time more than make up for it.
Environmental Benefits: Energy-efficient heating technologies reduce your carbon footprint, helping combat climate change. They use fewer resources and produce fewer greenhouse gas emissions, contributing to a greener, more sustainable future.
Comfort and Convenience: Many energy-efficient systems come with advanced features, such as smart thermostats and zoned heating, which can enhance your comfort and convenience.
Increased Property Value: Energy-efficient systems can increase the value of your home, making it more attractive to potential buyers if you decide to sell in the future.
Conclusion
When looking for "heating service near me," consider the benefits of energy-efficient heating technologies. These systems offer not only cost savings and environmental benefits but also enhanced comfort and property value. By embracing energy efficiency, you can enjoy a warm and sustainable home while contributing to a brighter, eco-friendly future. Explore the various options available and make an informed decision to meet your heating needs efficiently.