Professional Furnace Services for Efficient Heating & Air Quality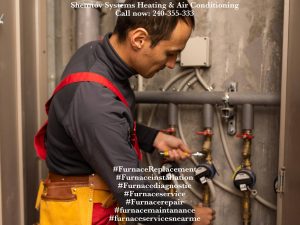 A well-functioning furnace is the heart of your home's heating system. It ensures your comfort during the cold months, maintains indoor air quality, and helps manage energy costs. To keep your furnace operating at its best, it's essential to invest in professional furnace services. Here, we'll delve into the significance of these services for both efficient heating and air quality.
Installation and Replacement:
The journey to an efficient heating system begins with the proper installation of your furnace. Whether you're installing a new furnace or replacing an old one, it's vital to rely on professional services.
Regular Maintenance:
Routine maintenance is the key to a long-lasting and efficient furnace. Professional furnace services include regular check-ups, cleaning, and adjustments to ensure that your furnace is in optimal condition. Maintenance tasks may include inspecting and cleaning burners, checking safety controls, lubricating moving parts, changing air filters, and testing the thermostat. Regular maintenance not only keeps your furnace working efficiently but also reduces the risk of unexpected breakdowns.
Energy Efficiency:
An efficiently running furnace can have a significant impact on your energy bills. If your furnace is not well-maintained or is outdated, it can consume more energy to generate heat, leading to higher utility costs. Professional furnace services focus on improving energy efficiency by ensuring that your furnace is operating at its peak performance, which can lead to substantial savings over time.
Improved Air Quality:
The quality of the air you breathe indoors is closely linked to your furnace's performance. Furnace services often include cleaning and maintaining the components responsible for air filtration, such as air filters, ductwork, and the blower motor.
Safety Assurance:
Safety is a top priority when it comes to furnace services. A malfunctioning or poorly maintained furnace can pose safety risks, including carbon monoxide leaks and fire hazards. Professional technicians are trained to identify and address safety issues, such as gas leaks, faulty electrical connections, and ventilation problems, ensuring that your furnace operates safely.
Longevity of Your Furnace:
A well-maintained furnace has a longer lifespan. Regular servicing helps prevent wear and tear on crucial components, extending the life of your furnace. Investing in professional furnace services can delay the need for a costly replacement, providing you with a reliable heating system for years to come.
Emergency Repairs:
No matter how well your furnace is maintained, issues can occasionally arise. When your furnace breaks down, having access to professional furnace repair services is essential. Technicians can diagnose problems quickly and accurately, providing effective solutions to get your heat back up and running, especially during cold winter days.
Warranty Maintenance:
Many furnaces come with warranties, and adherence to recommended maintenance is often a condition for warranty validity. Professional furnace services ensure that you comply with warranty requirements, giving you added protection and peace of mind.
Peace of Mind:
Knowing that your furnace is in the hands of trained professionals brings peace of mind. You can be confident that your heating system is reliable, efficient, and safe, and that your family's comfort is secure.
In conclusion, professional furnace services are an essential part of maintaining efficient heating and indoor air quality. From installation and maintenance to repairs and safety checks, these services ensure that your furnace operates at its best, reduces energy costs, and enhances your overall comfort. To enjoy the benefits of a well-functioning furnace, consider enlisting the expertise of professionals who can keep your heating system in top shape.